On top of our normal Sundays… 

THURSDAY MAY 26th: NECESSARY ANIMALS
You can book tickets online via the link below, or buy a ticket on the door. Doors open at 6, performances begin at 7.30. The weather looks set to be good, so come and relax in the gardens, and enjoy a drink or two. With special guests Lucy Brennan, Holly Finch and Ingvild Syntropia. Fully licensed bar, for disabled access please contact us in advance at The Beacon. We hope to see you there.   
https://beacon26may.eventbrite.com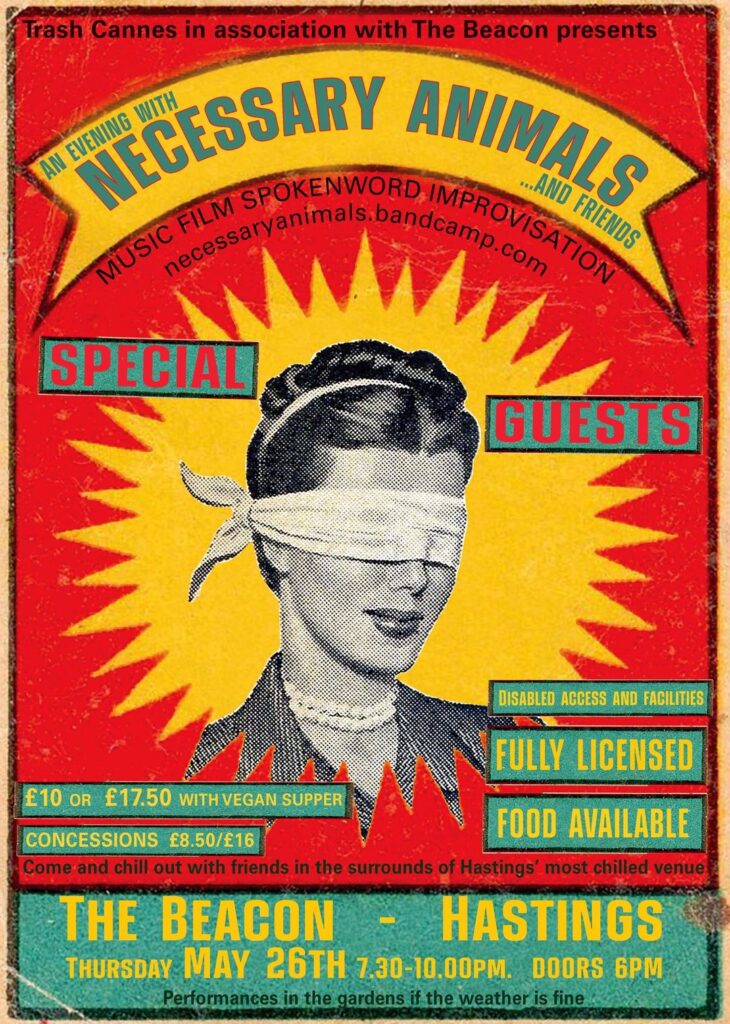 THURSDAY JUNE 9th COLUMN258
Tickets £5 on the door
7.30pm Doors open 6.30
Column258 is a Hastings' 6-piece neo-psyche group, combining spoken word with improvised alt-punk grunge jazz., the band's eclectic influences produce an addictive cocktail of sound.
Blending analogue and digital sounds from found objects and samples;  from horns to distorted guitars and mini-moogs to electric pine cones.
if you like soulful beat poetry, schmu blues and cinematic music this band is a must see.
They have variously been described as sounding like The Doors meets Nick Cave meets Gong, crossed with The Velvet Underground, Tom Waits and Can—
but ultimately their sound is truly their own, with a post-modernist feel, apocalyptic energy, soaring and carving its way into a hinterland of dark and mysterious soundscapes …
This is music as a force for change, seeking escape from the tyranny of conformist predictability.
https://soundcloud.com/column258
https://column258.bandcamp.com/
Copyright the Beacon 2021.
Website design by The Freelancer's Friend.